Covers
Visually Stunning
Patio Covers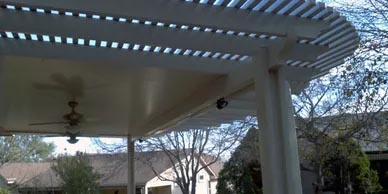 Patio Covers, Pergola, Porch, Deck, Ramada or Lanai? It doesn't matter what you call it, we can custom build a covering just for you. No matter how big or small the job, Lone Star Patio offers a free on site visit to give you no hassle guaranteed price quote that fits any budget.
Arbors & Pergolas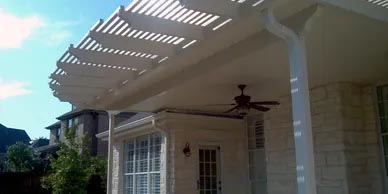 An Arbor, Pergola, shade roof or lattice patio cover built by Lone Star Patio is an affordable way to a quality living space and value to your Austin home.
Deck's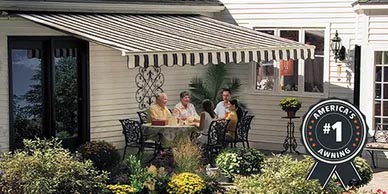 Transform your backyard into a beautiful "outdoor room" where you and your family will love to spend time.
Motorized Sun Screens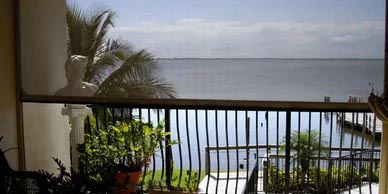 Our Zip Track screens carry a 10 year limited warranty from the manufacturer (frame and screen), a 3 year motor warranty and our own personal 2 year labor warranty against any problems and/or faults which may arise from the installation of your project.
Equinox Adjustable Covers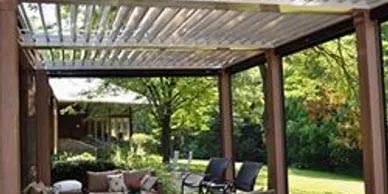 With Equinox's smart patio cover, you can really sit back and relax in the shade or sun!
Privacy Lattice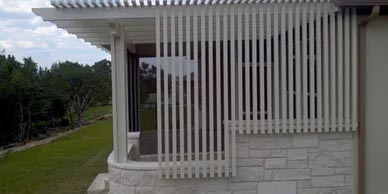 Privacy Lattice provides shade from the sun as well as privacy from the outside. Contact us to learn more.
Patio Covers
Texas is known for its extreme summer heat as well as its outdoor entertaining. In order for both to exist side by side, Texans are constantly looking for ways to beat the heat. Swimming pools can be extremely expensive because of the bedrock soil. For the average Central Texas backyard, you can almost expect a covered shade patio. Most of us know that the "builder patio" is always very small, and can barely fit a table & chairs. Many families look to custom remodel their back yard sanctuary offering more space for guests as well as a design aesthetic that fits their own personalities.

When it comes to covering patios and decks, Lone Star Patio carries of a wide selection of styles for you to choose from. If you're looking for a way to find shelter from the elements, yet still be able to enjoy the beauty of the outdoors, a patio cover is the perfect solution.
Choose Your Materials
Many outdoor enclosures and patio or deck covers are constructed of wood which makes for ease of construction and a nice handsome look. Most popular styles use cedar and redwood. These woods weather the elements well and can provide you a longer life-span for your patio structure. You will likely need to maintain them each year to keep them in the best possible shape.

Because of the need for regular maintenance and weatherization of your deck and patio covers, some people prefer engineered products or metals to use for their patios. This helps to minimize the maintenance factors associate with real wood.

Great patio cover construction take all these things into consideration.
Snap-N-Lock Panels
The Snap-N-Lock Panels by Structall, are Lone Star Patio most requested panel system. Snap-N-Lock Panels have an expanded polystyrene foam core with an aluminum exterior skins with a patented locking system that snaps together.

The Snap-N-Lock Panel Systems also have its own structural integrity. A wide variety of building materials including shingles and aluminum siding can be applied directly to the exterior of the panel; however the baked enamel finish makes this step purely cosmetic.

These panels come in a wide variety of colors to match your homes color scheme and most projects can be erected in as just a few days by a small crew of Lone Star's trained installers.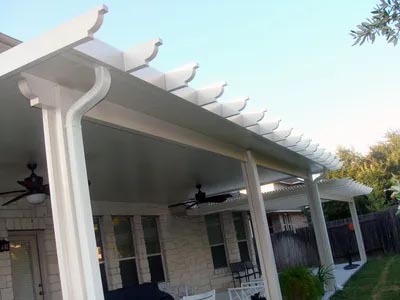 Download Brochures
Arbors & Pergolas
Garden structures like arbors and pergolas can provide beauty and serenity to your landscape. Arbors and pergolas add an element of interest to a yard or garden by drawing the eye upward. These structures enhance gardens in many ways like shape and color embellishment and user functionality. Pergolas can also serve as landscape structures for plants and vines to climb on offering additional beauty to your yard.
Materials
There are many materials for patio and walkway covers like lattice, arbors, pergolas and gazebos including iron, aluminum and wood. Wood lends a natural and sometimes rustic look to an arbor or pergola, and can be painted or stained to easily change its appearance down the road.

Wood is usually the most cost effective option; however, it does not last as long as metal or "alumawood" can be maintained easily and does not require stain or paint. It does not decay or rot and it lasts longer than wood. Man-made materials may initially cost more, but lasts a lot longer than wood and in the end is more cost effective over the long term.

The use of metal in your garden or patio structure is a better choice above vinyl or wood because of how sturdy it is over longer periods of time. At Lone Star Patio, we use our experience when choosing metal materials that do not quickly rust in the sometimes unforgiving Texas climate.
Affordable
Lone Star Patio offers a wide variety of designs and options to fit your home, lifestyle and budget. Patio, porch, deck, lawn and garden structures can be completely customized according to your specific needs and tastes. These home and backyard additions convert the empty spaces into ideal places to host all kinds of activities.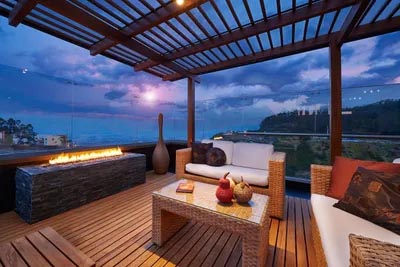 Sun Setter
Greater Outdoor Enjoyment
A SunSetter will transform your deck or patio into a beautiful "outdoor room" where you and your family will love to spend time. It's a great place to entertain guests, eat, or simply kick back and relax. Our Dimming LED Lights will extend your awning enjoyment into the evening by allowing you to "set the mood" under your Motorized or VISTA awning. You'll enjoy your time outdoors more than ever before.
Outsmart the Weather!
Don't let hot, glaring sun or light passing showers drive you from your deck or patio. With a SunSetter, you control the weather. Enjoy the outdoors rain or shine. A SunSetter gives you shade and protection when you want it, but retracts when you want to enjoy the sun.
Cool Shade and UV Protection
A SunSetter is like having outdoor air conditioning - it can be up to 20 degrees cooler under your awning. Plus, with a rated SPF of over 50, SunSetters block 99% of harmful UV rays. That's why the Skin Cancer Foundation recommends SunSetter Awnings as an effective UVA and UVB ray protectant. And since a SunSetter gives you far more coverage than a tippy patio umbrella, it will give your children and pets a great sheltered area to play outside. And by blocking the UV rays before they penetrate your home, SunSetters help prevent fading of indoor rugs, drapes, and furniture.
Energy Savings
A SunSetter can even help cut your air conditioning costs. By blocking the sun from walls, windows, and sliders, your SunSetter helps keep the inside of your home cooler, and prevents carpets and furniture from fading. By contributing to a reduction in your energy consumption, an awning can reduce your carbon footprint.
Affordable Designer Elegance and Engineering Excellence
With a SunSetter, you never have to compromise on beauty, quality, protection, or safe, easy, reliable operation. It's a fact: You can pay more, but you simply cannot buy a better, higher quality awning than a SunSetter. You get custom-built features without the custom built price. That's why you'll find SunSetter gracing the decks and patios of over half a million Americans nationwide.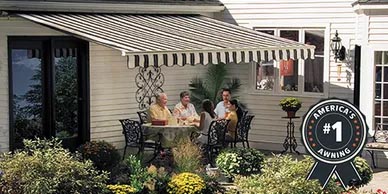 Motorized Sun Screens
Zipper Track Motorized, Retractable Sun Shades & Screens
Originally developed for the bullet trains in Japan, the ZIP tracking system can lock an array of fabrics into its side track, making it as stable as possible and minimizing excess movement due to winds and other outdoor elements.
Use it with with our Suntex Premium Screens to create the most innovative solution for solar heat, noise, and insect intrusion control. Even with excessive pressure directly applied to the fabric, it remains tightly locked into the side tracks for superior fabric stability.
Fully Motorized - Raise & Lower With The Push Of A Button
Motorized retractable sun shades can be controlled from a remote, wall switch or home automation system
Unbeatable Thermal, UV & Radiation Protection
Block up to 90% or more of the sun's harmful rays without sacrificing your beautiful views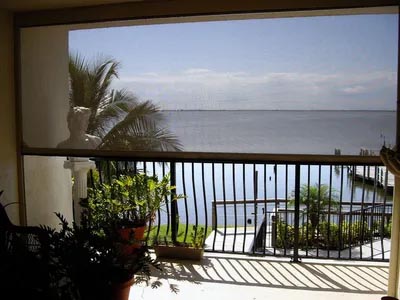 Solar Adjustable Covers
Smart roofs for the deck and patio have the ability to open and close, thus allowing full protection from the rain and sunlight. What a better way to enjoy the sun or shade on your terms. The patio cover louvers can be opened and closed as needed, so you can choose between an open or closed roof.

The louvers can tilt open to an angle of 130 º and can tilt shut to 0 º. This is just like having a built in roof. Naturally, any intermediate position can be maintained, allowing you to tune the shade light ratio to your liking at any time of day. This feature allows you to maximize the time sitting outdoors, under the patio cover, throughout the year.
The angle of the roof louvers can be adjusted manually or by using a remote control.
Also the roof louvers are made from the highest quality recycled aluminum making them a green roof or eco-friendly roof. The aluminum metal roofs also require the least possible maintenance and can be easily cleaned with just soap and water.
Maintenance FREE
The Solara aluminum patio covers are hermetically sealed, maintenance free and will never rust or rot
All of Solara's Shading Systems are made out of aluminum, so maintenance is minimal. Easy cleaning with just soap and water
Unlike wood patio covers, the Solara Shading System is termite proof and will never rot or have to undergo painting