Outdoor Living
Visually Stunning
Outdoor Kitchens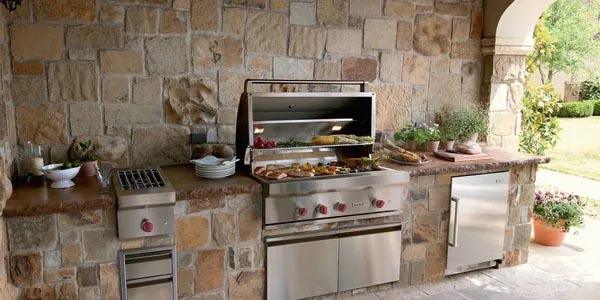 Your outdoor living space is not complete without your "New" outdoor kitchen! Contact us today to get your FREE no hassle quote!
Wood & Composite Decks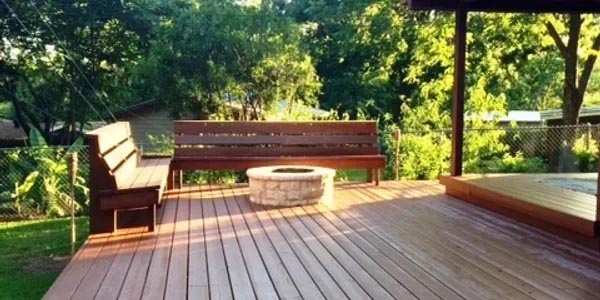 Lone Star Patio has earned a solid reputation as one of Texas' premier custom deck builders. We specialize in the construction and design of new wood decks or composite decks, gazebos, pergolas, trellises, deck railing, porches, sun rooms, screened rooms, deck covers, patio deck enclosures, swimming pool cage enclosures and more!
Flagstone & Concrete Patios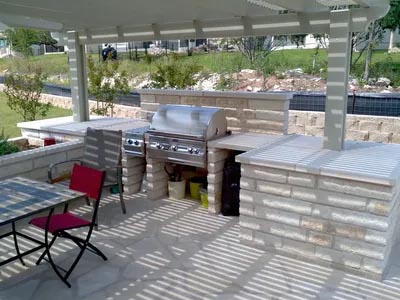 A well designed, professionally installed paved concrete or flagstone patio, driveway, walkway or sidewalk from Lone Star Patio of Austin can add beauty and elegance to any Texas home, yard or pool side for many decades.
Outdoor Kitchens
Entertain
Outdoor living and entertaining at your home is no longer just a grill and lawn chairs. It has come full circle. In fact, more Texans want a fully functioning outdoor kitchen with a built-in grill, side burner, and refrigerator.
Outdoor kitchens are quickly becoming the hottest trend in outdoor entertaining. A well designed outdoor kitchen will provide added living space to your existing property and could possibly increase the value of your home, if installed correctly by a professional.
Whether you're a grill master or just a person who loves to cook, why not take your outdoor cooking experience to the next level? Let us design and build your custom outdoor kitchen. You will be the envy of the neighborhood.
Why choose Lone Star?
Design
Unlimited layout configurations
Can be built on existing slab without additional footing
Ready to finish in just hours
More storage space under cabinet and raised flooring
can be used with virtually any custom finish
Minimal to no revegetation required
FREE no Hassle Quote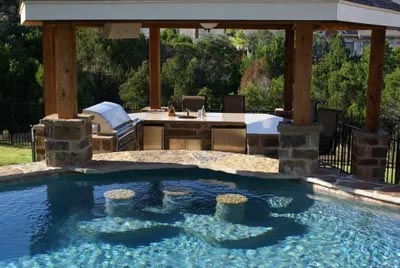 Wooden & Composite Decks
Wooden decks and patios have been a favorite of Texans all over the great State. Many homeowners prefer low-maintenance Wooden decks and patios because they don't want to have to stain their deck every year. There are various products that can be used, including pressure treated wood, composite decking material, aluminum, fiberglass and plastic lumber.
Cedar can be a low-maintenance wood deck if you choose to let it age naturally instead of staining it. Among the composite decking there are several quality products on the market that offer different benefits and features to suit numerous homeowner preferences.
Cedar is a superior all weather decking material. A deck made with cedar decking and railings is naturally resistant to decay and insect damage due to the cedar's unique preservative oil. This means no further treatment of the deck material is needed unless it's in direct contact with the ground. Cedar decking material has less than half the swelling and shrinking tendencies of other domestic softwoods. Our cedar decking material lies flat, stays straight, retains fasteners and provides a firm base for paints and stains. This will allow your cedar wood deck, porch or patio to age gracefully through decades of extreme weather. Cedar also is just beautiful, a favorite of many home owners.
Composite decks from Lone Star Patio are made from recycled woods and plastics which costs less then the use of vinyl, plastic fiberglass or cedar. A Composite Deck does not require harsh chemical cleaners which are used to clean off old stains and sealants during the typical upkeep of natural wood decks. They require little to no maintenance and look the same year after year. They also do not crack or splinter like their natural contenders.
Composite Decking comes in all types of colors and grains and with a variety of hidden fastening system options; they are the most versatile choice for your next deck addition!
Flagstone & Concrete Patios
Patios are a type of hardscapes, the subset of landscaping categories that describe the non-plant material in your landscape's design. Thus your material choices within that entire group need to be coordinated. Because of its durability and neutral palette, flagstone is a go-to choice for many hardscapes.
If your budget does not allow for Flagstone, stained and/or stamped concrete is an exceptional and very popular choice that can bring you decades of enjoyment at a more affordable price tag.
Flagstone
Flagstone is a sedimentary stone that is split into thin layers, allowing it to be used in many different applications. It is usually a sandstone containing feldspar and quartz, often naturally cemented together with calcium, silica or iron oxide. Flagstone is not to be confused with slate, which is a metamorphic rock that is composed primarily of clay or volcanic rock.
Flagstone can be quarried most any place where there is sedimentary stone, although ours comes from right here in Texas. Where the stone is formed and what its primary binding materials are determine the stones' predominant color. Among the colors most commonly found in flagstone are red, pink, peach, chocolate, buff, green, blue, gold, beige and white.
The variety of colors, versatility of uses, wide availability, durability and beauty of flagstone make it an ideal material to use in a range of landscaping projects. It has a naturally non-slip surface which makes it perfect for outdoor structures, walkways, driveways, patios, etc. Especially surrounding an in the ground swimming pool. Laying Flagstone is much like putting a puzzle together. The slabs are usually cut or broken into irregular shapes, adding to the beauty many find in the look of the random, less contrived pattern of a flagstone walkway or patio. Its fine-grained surface contains flakes and specks of mica, which makes it glitter and glimmer when the light catches it just right. Sometimes called bluestone or freestone, flagstone also works well for a retaining wall, built-in seating and planters.
Since flagstone is an impermeable surface, you will want to be aware of your yard drainage. Let our qualified Lone Star Patio team give you a free home consultation to discuss your options and how to better serve both your landscape and your functional needs.